<ö-A HREF="http://www.langston.com/psl-bin/bait">

PUDDLE CITY
Bluegrass Band
---

Puddle City Bluegrass Band, 1971 - Love Please Come Home
---
The Puddle City Bluegrass Band had a brief but intense life spanning just a little over three years from 1969 to 1972.
Meeting initially in the large, all-tile bathroom in the basement of Reed College's Elliot Hall (right next to the room that housed the brand new computer), the band consisted almost entirely of Reed College students through its entire existence.
The band's early fans were members of the Reed community (e.g. James Dickey, who wrote Deliverance -- one of Puddle City's showpiece instrumentals appears in the movie. . . coincidence?) but later fans included people from all over the northwest.
The band moved to Olympia in 1971 when Peter got a job on the staff and teaching at the Evergreen State College due to his multidisciplinary interests in the arts and computers. The band used Olympia as its base to play a busy schedule of weekly gigs in both Portland and Seattle as well as concerts, dances, parties, and other special events anywhere within driving distance.
Fortunately, a producer at Rex Recording studios became interested in the band and recorded a few 45s, and the Evergreen State College had a beautiful new recording studio that the band helped try out by providing music for fledgeling engineers to record, and Portland's Michael O'Rourke recorded several local performances of the band to include on his anthology of NW bluegrass called Oregon Territory, so there are some audio recordings of the band available.
Further, the Evergreen Library loaned out video equipment to staff and students, so one evening the band brought a video tape deck and camera to their weekly Frankenstein's Tavern gig in Portland and recorded the first set of their usual four hour performance. In 1971 video cameras needed a lot of light, so these clips are dark, but otherwise remarkably free of technical problems (other than the noisy tavern crowd).
---
Puddle City at Reed College's St. George's Day celebration, probably April 23, 1970.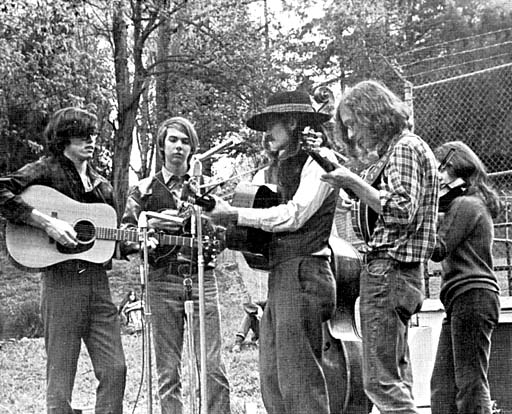 left to right: David Butts - guitar, Greg Booth - mandolin, Peter Langston - guitar, Chris Montague - banjo, & Diane Desbrisay - fiddle. Hidden in back: Gray Pederson - bass.
---
Puddle City was always known for its tasteful arrangements of little-known bluegrass gems.
In this early photograph the band is recreating its sensational death-defying triple-banjo rotating spectacle supersolo for an esoteric tune called Foggy Mountain Breakdown while fiddler Diane looks on in disbelief.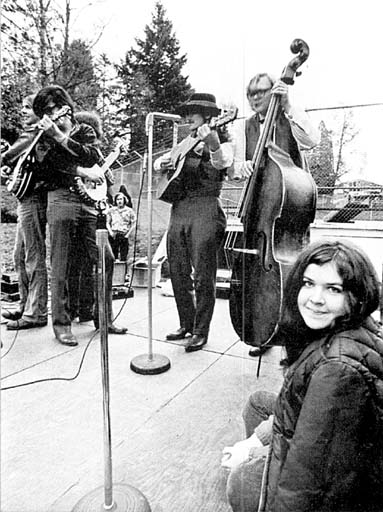 left to right: parts of Greg Booth, Dave Butts, and Chris Montague, each playing half of two different banjos, a distant fan wondering what we're doing, Peter Langston playing guitar, Gray Pederson playing bass, & Diane Desbrisay trying to pretend she doesn't know us.
---
The original Puddle City business card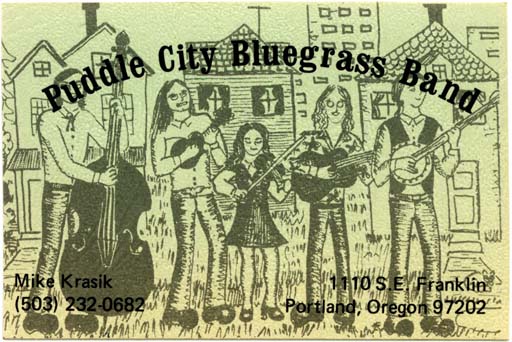 This card carries the image of one of two realistic paintings of the band created by a fan, Constance Earnshaw -- thanks, Connie! (Click on the card to see the original poster.)
---
Polishing Greg's Car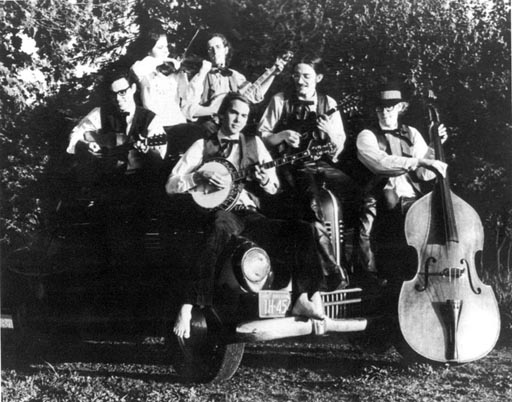 An early photo of the band posing on Greg's car
left to right: David, Diane, Chris, Greg, Peter, Gray.
---
Puddle City in 1970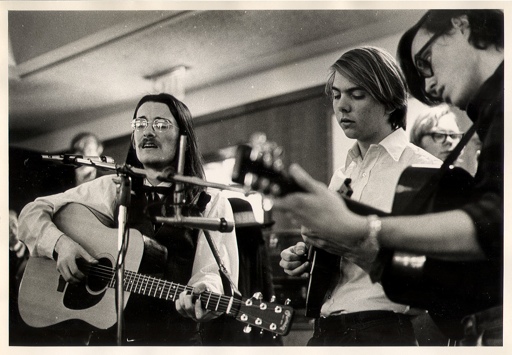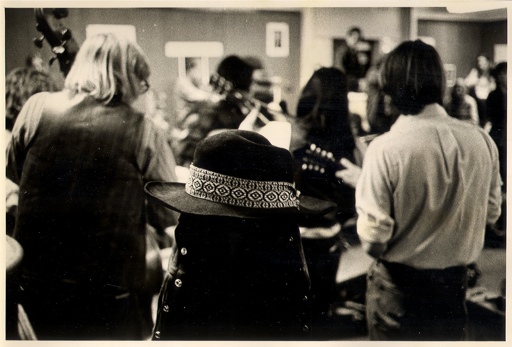 Puddle City performing in the Reed College Coffeeshop
Top, left to right: Peter, Greg, Gray, & David.
Bottom, left to right: Gray, Peter's hat, Peter, & Greg.
---
Puddle City establishes a new musical venue in Portland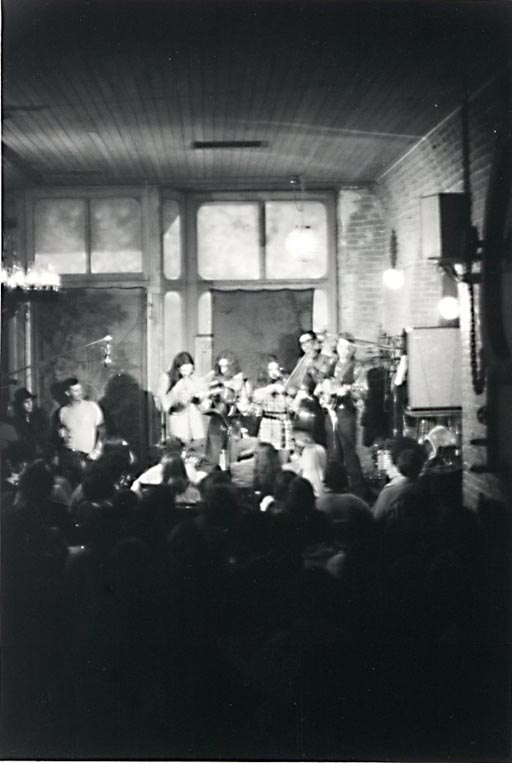 The band convinced Frankenstein's Tavern on Front Street in Portland to try live music (thanks, Michael!) and it quickly became the local bluegrass hotspot;
left to right: Peter, Chris, Diane, David, & Greg.
---
Puddle City Posters from 1972
2/12/72

4/1/72


4/28/72

7/21/72
(Click on any poster to see a larger version.)
---
Puddle City Records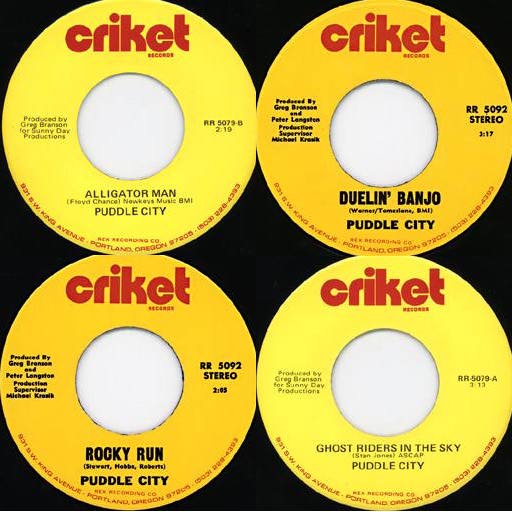 Puddle City released two 45-rpm records (singles) on the Cricket label. It's too bad the movie Deliverance didn't come out a bit earlier...
---
Puddle City with Washboard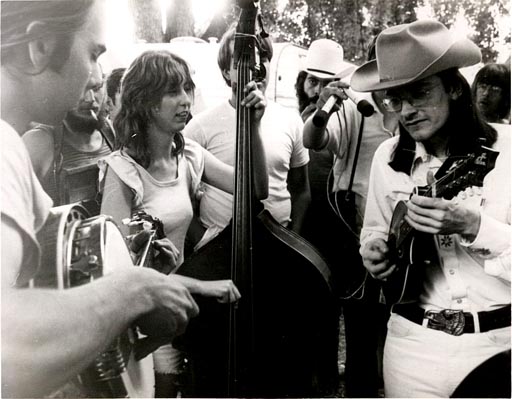 Greg, Sharyle, and Peter jam with washboard player Billy Hults (between Greg and Sharyle with cigarette). Well, okay, so we were actually pretending not to notice Billy because we knew he'd get all the applause if he stuck around. You can hear him get all the applause on the CD of our Civic Auditorium set (on "Bye Bye Blues" -- see below).
---
Puddle City in 1972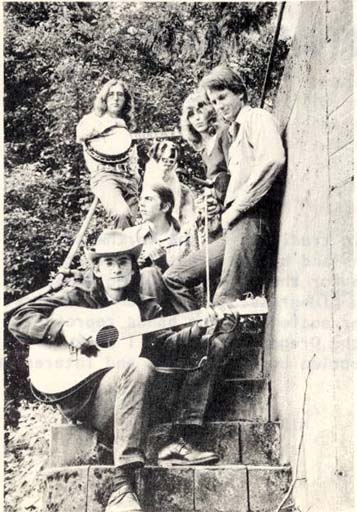 The band in its 1972 form, top step to bottom: Chris Montague (with the banjo), Kishka (with the dog collar), Greg Booth (with the mandolin), Sharyle Patton (with the look), Tom Curry (with the fiddle), and Peter Langston (with the guitar).
---
Puddle City in 2010
NEWS FLASH!

Portland, OR, 1/30/10:
The Reed College Alumni Office will be reuniting the original Puddle City Bluegrass Band to play a Dance/Concert during Reed Reunions 2010, according to well-informed sources.
The band members will be coming in from Alaska, California, Oregon, Utah, & Washington State to play Saturday night, June 5th at Reed College.
While the Puddle City band members are gathered in the Portland area, the band may also play some local public performances, and may even put on a public show down in Bolinas, California, sources say.

LATE-BREAKING UPDATE!

Portland, OR, 4/29/10

The rumors appear to be true! The poster shown here (left) was leaked by a low security print shop in nearby Seattle, WA, and is believed to be genuine. If so, Puddle City will give three separate performances on as many nights in the Portland area. The rumors about a performance in California's hip Marin County have yet to be verified, but are appearing more and more likely. Stay tuned!

EVEN LATER-BREAKING UPDATE!

Bolinas, CA, 5/10/10

More rumors are panning out! The poster shown here (right) was intercepted by a well-known mapping and search engine company on their regular sweep of backwoods Marin County Wi-Fi traffic a week ago.
What next?
---
---
---
I'm keeping my eye out for other bits and pieces left behind by the band.

If you have any Puddle City
Pictures
Posters
Sound samples
Anecdotes

let me know via e-mail.
---
Puddle City on CD?

While we're at it, I do have a recording of a Puddle City concert appearance (at the Portland Civic Auditorium in April, 1972).
If you would be interested in getting a CD copy of that concert set, it's available as CAT-118CD, and includes the following tracks:

Rocky Run · Little Maggie · Fiddle Medley · Bye Bye Blues · Rocky Top · Same Old Man Working At The Mill · Blackberry Blossom · Old Slewfoot · I Don't Love Nobody · The Cuckoo · Black Mountain Rag

I also have a CD (CAT-119CD) of some Puddle City studio recordings, four 45-rpm single sides, and a live recording of a KWJJ disk jockey playing a Puddle City acetate test pressing on the air -- 13 tracks in all.

· Rocky Run (take 1) · Old Home Place · Blackberry Blossom · Duelin' Banjo · Take Five · Love Come Home · Mandolin King Rag · Kentucky Mandolin · Clinch Mountain Backstep · I've Just Seen A Fiddle Tune Medley · Alligator Man · Ghost Riders in the Sky · KWJJ Radio aircheck (Rocky Run take 2)

To get either of these CDs, send me e-mail (psl@acm.org) and ask about CAT-118CD and/or CAT-119CD.
---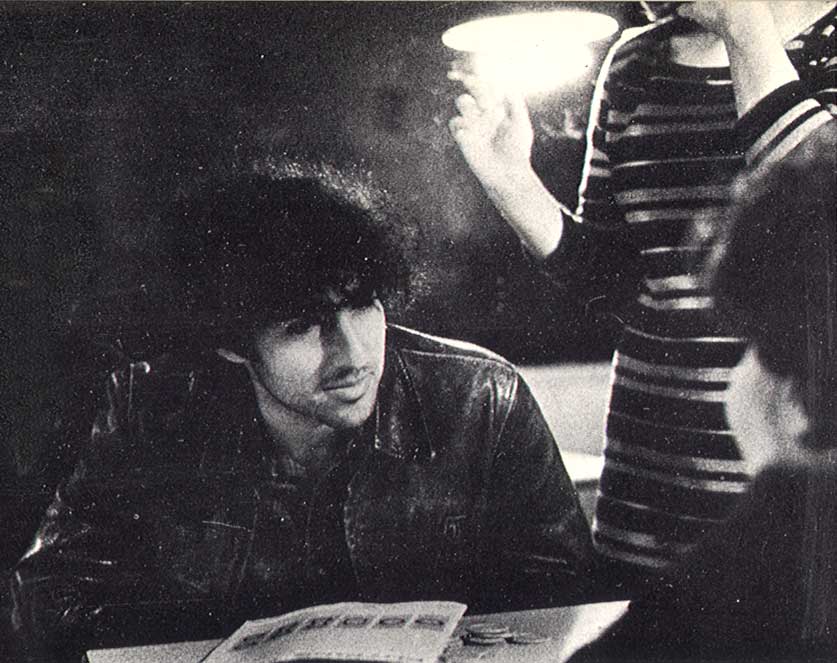 An unsung hero of Puddle City, Michael Krasik, the band's friend and manager who handled all those tense negotiating moments...




---
This page was last modified on August 03, 2023 at 16:08:37.
The visitor count stands at: 107,336.


(psl@acm.org )
© 2002 Peter Langston, all rights reserved